Whitewater Rafting Pre-trip Information
We are looking forward to having you on our trip! Below are a few details about rafting with us that you will want to look over to make sure you are fully prepared for your adventure.
You must bring your completed Peak Adventures registration packet and signed forms on the day of your trip.
We will be on the river between 3 and 5 hours. Learn more about the South Fork of the American River here
All rafting equipment such as the raft, personal flotation device(PFD) and paddles are provided.
We recommend that you leave valuables at home. This includes jewelry, nice sunglasses or anything else that you cannot replace. Peak Adventures is not responsible for lost or broken items.
There are companies who take action shots on the river so you may want to bring extra cash to purchase photos, or order online after at https://www.hotshotimaging.com/
Raft guides can accept tips. It is customary but not required.
Where to meet
Our whitewater rafting trips meet at Camp Lotus. When you arrive please visit the store & deli to pick up your parking permit, park, then find the Peak Adventures trailer on the northeast side of the parking area.
5461 Bassi Rd, Lotus, CA 95651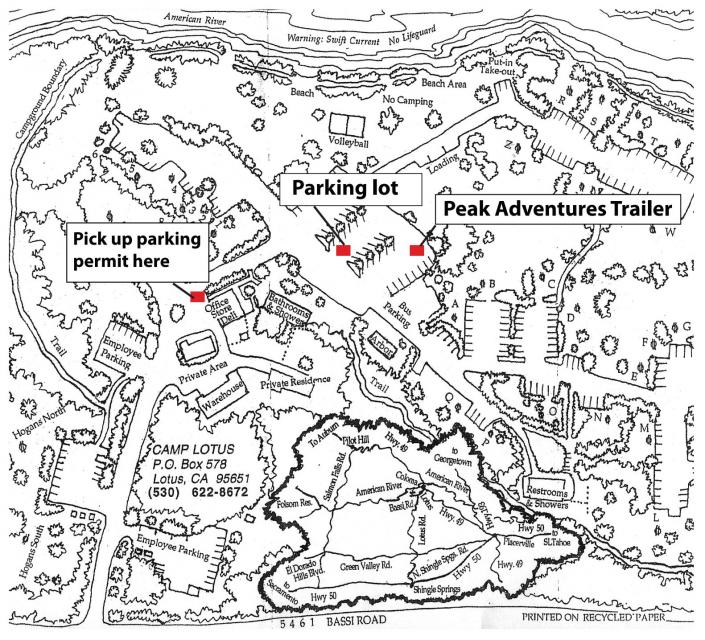 Camp Lotus is approximately one hour East of Sacramento.
From Sacramento:
Take Hwy 50 East. In 30 miles, just past Cameron Park, exit
at Ponderosa Road, turn left, crossing over the freeway and go right on N. Shingle Road. You will be following signs for
Coloma and Lotus. Proceed 11 miles on that road (it turns
into Lotus Road). At the 3 way stop sign turn left onto Bassi
Road and go one mile to the Camp Lotus entrance on the
right.
From Roseville/Auburn:
Take 80 to CA-49 South. Continue on 49 South. Turn right
on Lotus Road, at the three way stop just after crossing the
river. (At the next three way stop turn right) onto Bassi
Road and go one mile to Camp Lotus entrance on the right.
You can also camp, but please plan ahead. More info can be found here: https://www.camplotus.com/tent-camping
What to bring
Paperwork
You must bring your completed Peak Adventures registration packet and signed forms on the day of your trip. For your convenience, the forms can be found by using the blue buttons below. Everyone under the age of 18 must have signatures from a parent or guardian.
Items
1-liter water bottle filled when you arrive
Sunscreen
Granola bars, or other easy to grab snacks in waterproof packaging
Sunglasses with retainer strap
Clothing (on the river)
Shoes that can get wet and have a heel strap – NO FLIP FLOPS OR CROCS!
Swimsuit or board/athletic shorts and shirt
Cotton is not suggested
Clothing (after rafting):
Extra shoes and socks
Change of clothes
Optional Clothing (depending on weather):
Warmer fleece jacket
Long underwear (synthetic material)
Booties, wool or fleece socks
Trip Logistics:
Meet at 11:00AM at Camp Lotus where you will meet with our staff, and be oriented to the facilities. We will then hold a safety talk before getting on the water. We suggest eating a meal before you get on the river as we will not be stopping for lunch. You are more than welcome to bring snacks, but keep in mind any items you carry with you on the raft are going to get wet. We will have storage for you all to place your items but it will not keep them dry. Once we arrive at Salmon Falls, our end point, we will escort you all back to your vehicles at Camp Lotus. Refer to the attached Rafting Checklist for more information regarding what to bring. Please consider tipping your guide; it is customary but not required.
If you have any questions, please contact us at peakinfo@csus.edu or call (916) 278-6321.