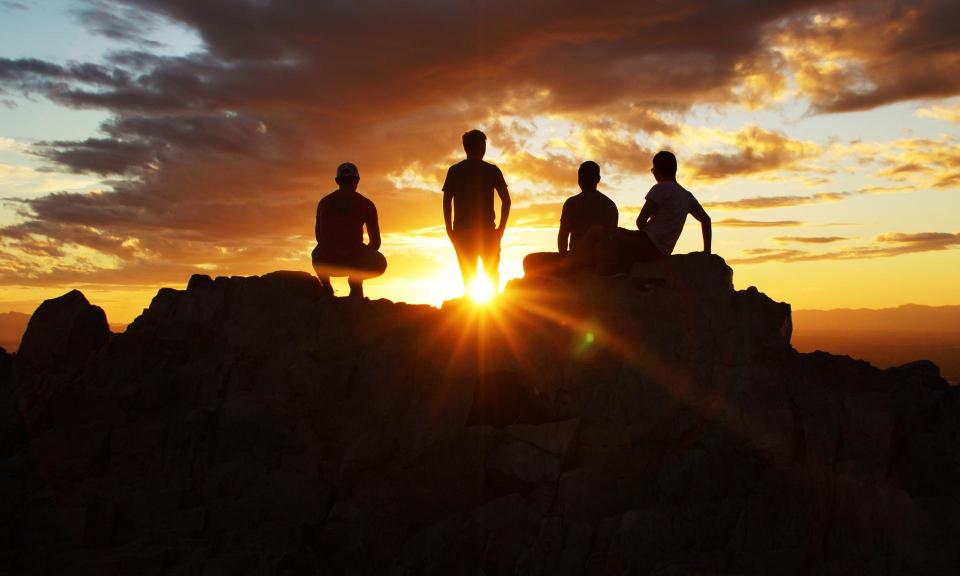 We strongly believe that the outdoors is a space for everyone. Outdoor experiences have the unique ability to empower, educate, and allow people to let down their guard to find common ground. Together we can improve the outdoors in becoming a space for different ability levels, cultures, and identities to come together in a shared love for the outdoors. Whether you participate, donate, or advocate, your support will lift the collective whole and help marginalized communities. These articles contain resource links and program insight into groups promoting diversity and inclusion for black communities, LGBTQ+ communities, people living with disabilities, and women. There are THOUSANDS of organizations, people, groups, and movements working hard to create a more inclusive outdoors. This is just the tip of the iceberg and serves as a starting point in the conversation about diversity and inclusion in outdoor spaces.
Black & African American
Outdoor spaces are historically white spaces. We have come a long way in creating a culturally diverse and inclusive space in outdoor recreation, but there is still work to be done. While there are always black rights organizations to donate to, it's more important now than ever to support them. Advocating for these groups can be done in many ways. If you're looking for a start, then offering your donation, time, skills, or all of the above to these organizations can help make a real difference.
Outdoor Afro is a nationwide organization and leadership network that reconnects African Americans with natural spaces and one another through recreational activities. Helping people take better care of themselves, their communities, and the environment.
Black Outside connects youths in San Antonio, Texas, with camps for young men and women. One of their programs – Camp Founder Girls surrounds black girls with positive role models that teach personal skills through team-building activities. These bonds cultivate relationships with one another while building bravery and strength. Meanwhile, Brotherhood Summit connects young black males into a day of mentorship and guidance.
Melanin Base Camp is a community resource and online community for black voices and people of color to share information, learn together, and stand united around the world. Melanin Base Camp a team of professional bloggers to promote different races and cultures.
LGBTQ+
Gender nonconforming individuals often experience discrimination, harassment, and daily bias in their lives that can transition into outdoor spaces. The advocates below have worked across America to combat this and ensure all feel safe and welcomed in the outdoor community. Learn more about gender identity, gender expression, and how these programs embrace transgender and gender nonconforming students in their area by visiting the following:
Camp Indigo is a summer day camp for trans and gender diverse youth from Oakland, California, and Boulder, Colorado. They rotate between science and outdoor recreation to combine educational learning with outdoor fun.
Out There Adventure leads through exploration. Youth will discover resources that allow them to claim identities, feel belonging, and develop resiliency. The goal is simple, to empower queer young people through their connection with the natural world.
Outward Bound -Yosemite Backpacking for LGBTQ+ Young Adults offers a course where LGBTQ+ teens will backpack, swim, and venture through lakes and forests. The group ends the day with a night's rest under bright star-laden skies. Overall, expeditions are led by LGBTQ+ instructors and aim to create a safe space for these marginalized teens
Venture Out Project offers backpacking trips, day expeditions, and an indoor recreation night at various centers worldwide. They bring support, challenge, and mentoring to youth through nature with peers and experienced guides who've share similar moments and struggles. Here they are dedicated to improving the lives of the transgender population through inclusion in outdoor spaces.
Brave Trails are more than just your average summer camps. They empower the next generation of LGBTQ leaders and give them the tools to continue in the quest for justice and civil rights for all. They also have family camps for LGBTQ families to bond in a safe and supportive environment.
The Laurel Foundation, Camp Laurel's Trans/Gender Non-Conforming (GNC) Summer Camp, promotes active living by sharing activities like archery, swimming, and kayaking. Meanwhile, campers stay surrounded by peers who understand their unique experiences as trans youth.
Persons with Disabilities
Every person should be allowed to experience the outdoors as a way to challenge themselves, develop character and compassion, and learn leadership skills and service ethics, regardless of physical ability. These groups have stood by that principle since day one, focusing on fostering outdoor experiences for all, regardless of ability.
Adaptive Adventures provides for a broad range of outdoor sports and gear for participants who cannot utilize standard equipment. Instead, Adaptive Adventures provides these athletes with the necessary adapted equipment and programs to suit their physical, intellectual, neurological, and sensory abilities.
Achilles International gives children with disabilities an opportunity for training courses, race opportunities, and in-school programs
Epilepsy Foundation – Northern California offers free workshops on epilepsy, seizure recognition, and first aid for educators, companies, other service groups. Epilepsy Foundation also organizes fundraiser events, art therapy programs, and summer camps.
Shifting Gears acts as a central hub for recreation experiences that encourage growth by breaking down barriers that stand in the way between a person and their aspirations.
Triumph Foundation targets individuals with Spinal Cord Injury/Disorder (SCI) to triumph over their disability. Their programs help participants with mobility impairment to keep moving forward by pushing themselves into the best version possible. Triumph Foundation also works with those newly injured and post-injury.
Adaptive Sports and Recreation Association believes that every athlete deserves a chance in league sports, recreational team sports, instructional camps, sports clinics, and other adaptive activities.
Central California Adaptive Sports Center has winter and summer programs for seasonal mountain fun. Through therapeutic recreation, participants improve their confidence, develop healthy habits, and foster independence through athletics.
Women and Young Teens
Throughout the years, thanks to feminist movements and female leadership, we are minimizing the gap in gender participation. Historically women were denied equal chances to chase the same leisure pursuits as men and today face extra obstacles to participate in outdoor recreation. The following groups advocate inclusivity and access for all girls in an outdoor space.
SheJumps encourages young women to find new sports, clinical skills & self-discovery through experience in courses such as bike maintenance and avalanche courses. Additionally, their outdoor programs grant women and girls of all backgrounds the chance to participate in unique adventures outside via scholarships or low-cost options.
GirlTrek Follows the footsteps of a civil rights legacy. It's a national health movement that activates thousands of Black women to be change-makers in their lives. Through simply walking, they fundraise for communities to reclaim holistic lives rooted in wellness and radical self-care.
Women's Wilderness specialty is helping girls and women become their most reliable, best selves while providing solid instruction in wilderness travel and outdoor skills. They offer summer camps, weekend retreats, and climbing courses for young women to get out and active.
Outdoor womans Alliance aims to serve women from a wide range of ages and backgrounds. OWA believes the outdoors helps women find common ground with each other. All while building up the best in each of us and their adventure programs strive to bring that forward.
Overall, a fantastic cultural shift in outdoor recreation is happening. Still, there is always more work to do in creating a more inclusive outdoors. Whether it's reading an article, following someone new on social media, or taking the next steps in being an advocate and ally, your time and energy are appreciated. Small actions like inviting a friend you otherwise might not think to invite on a hike and sharing marginalized voices on social media go a long way. Strive every day to be friendly, kind, and embrace the power of nature to heal. Thank you for reading, learning, and listening, and we hope to see you on the trail!