#TuesdayTalks
Outdoor Conversation Series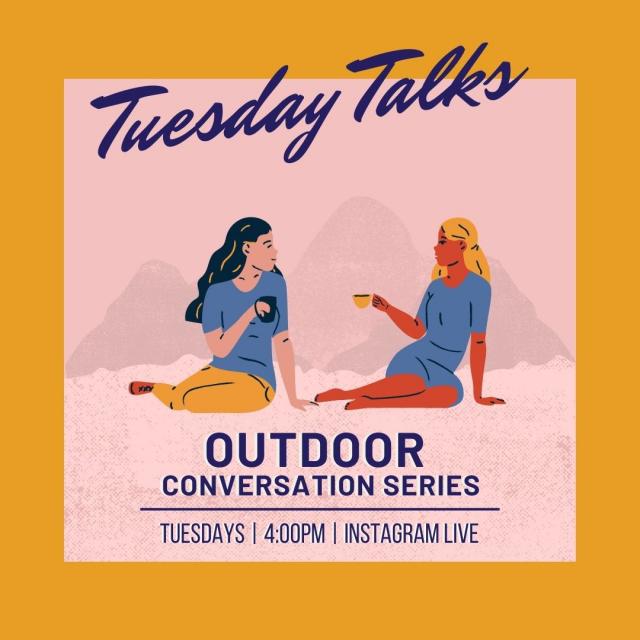 Join us for Tuesday Talks as we sit down with industry professionals, leaders, and outdoor ambassadors in this outdoor focused conversation series. Our goal is to introduce you to influential individuals through authentic conversations on Instagram Live. We will touch on diversity in the outdoors, how to break into the industry, current trends, and much more! Stay tuned for upcoming guests and feel free to submit your questions to peakinfo@csus.edu beforehand!
Tuesday | 4:00pm | @Peak_Adventures Instagram Live
Full list of guests TBA
Oliver Reitz ​
Administrative Coordinator & Instructor at The Venture Out Project
October 13th, 2020
4:00pm-4:30pm
Oliver Reitz is an Instructor and the Administrative Coordinator for the Venture Out Project, helping the LGBTQ+ community enjoy the outdoors. He spends his time hiking, swimming, and rock climbing near his home in Western Massachusetts that he shares with his partner and two dogs.
Patricia Lynn
Director of Roanoke College's Campus Recreations Outdoor Adventures program
October 20th, 2020
4:00pm-4:30pm
Lynn's background in outdoor adventures began when she was an undergraduate at Ohio State University. While there, she worked in the outdoor program leading trips around the country, including multiple month-long backpacking expeditions in the High Sierra. Inspired by her experiences, she invested multiple outdoor safety certifications and completed a graduate degree in creative and innovative education from Georgia State University, enabling her to land the position of Assistant Director at Roanoke College.
Kathy Karlo
Executive Director No Man's Land Film Festival, writer, climber, and producer of For the Love of Climbing
October 27th, 2020
4:00pm-4:30pm
Podcast producer and freelance writer, Kathy lives for rock climbing, belly laughs, and sharing doughnuts with strangers. Between baking and loving on dogs, she is desperately trying not to kill the last few living basil plants in her apartment. Climbing is mostly jumping for her, as she has a negative ape index.
You can find Kathy's work in Climbing Magazine here: https://www.climbing.com/author/kathy-karlo/
Michael Fairman
Co-founder of Summit for Soldiers 501c3, founded to help other veterans by removing the isolation that leads to suicide.
November 10th, 2020
4:00pm-4:30pm
Fortunate to have traveled this world, both in and out of uniform, Michael served almost 18 yrs in the US Navy as both an active and on reserve FMF Corpsman. After struggling with PTSD, Bipolar disorder, and an attempted suicide, Michael was inspired to bring awareness to the 8000 veteran suicides each year and to carry the "Silently Fallen Flag" bearing the names of those lost to suicide on his adventures. Fueled by his love for the outdoors and dedicated to showing others you can 'reclaim' your life and take on even the greatest challenges, Michael summited Mt. Everest in 2016, along with 4 more of the 7-summits and 43 State highpoints in my quest to complete the '7-50.'
Through it all he was able to help co-found Summit for Soldiers 501c3 to help other veterans by removing the isolation that leads to suicide.
His personal website is www.8000veterans.org and the organization is www.summitforsoldiers.org
Ryan Steele
Finding a passion for the water at a young age, Ryan has been a lifeguard since 2001 where he worked at Huntington and Crystal Cove California State Beaches. In 2008 he completed the POST Academy and began his journey as a Peace Officer with California State Parks, promoting to Sergeant in 2014. Now a Supervising Ranger and Superintendent with the state parks department, Ryan oversees Folsom Lake SRA, including the seasonal lifeguard and junior lifeguard programs. He is also a member of the dive team, a firearms instructor, chemical agent instructor, and a firm believer in the State Parks Mission.
November 17th, 2020
4:00pm-4:30pm
Andy Politz
Adventurer, Everest Guide, Educator, and Engineer
December 1st, 2020
4:00pm-4:30pm
Andy Politz has been climbing for more than 25 years, serving as a mountain guide at Mount Rainier for 12 years (1978-1990). He has gone on mountain expeditions around the world climbing in Alaska, Equador, New Zealand, Nepal, Pakistan and Tibet. He reached the summit of Mount Everest in 1991 via the route Mallory and Irvine attempted in 1924. Politz is an engineering technician for Utility Technologies International and teaches part-time at the Linworth Alternative Program and the Graham School.
Read Outside Magazine and check out how Andy and his expedition group's discovered George Mallory's body on Mt. Everest: https://www.outsideonline.com/1909046/ghosts-everest