#TuesdayTalks
Outdoor Conversation Series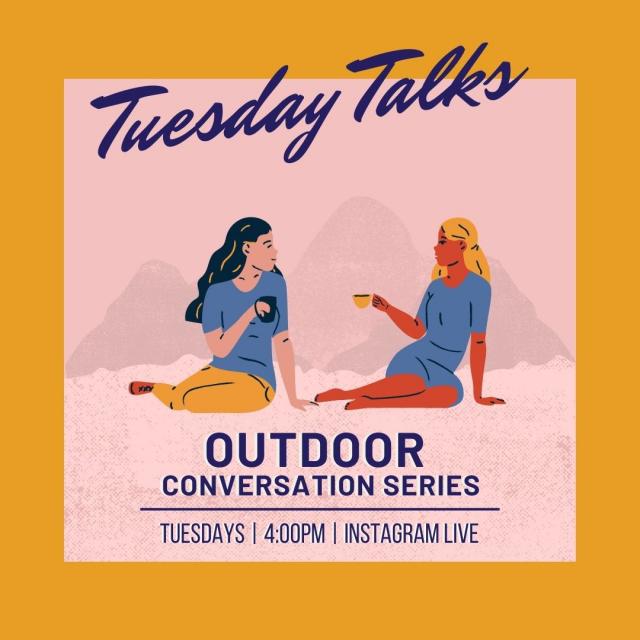 Join us for Tuesday Talks as we sit down with industry professionals, leaders, and outdoor ambassadors in this outdoor focused conversation series. Our goal is to introduce you to influential individuals through authentic conversations on Instagram Live. We will touch on diversity in the outdoors, how to break into the industry, current trends, and much more! Stay tuned for upcoming guests and feel free to submit your questions to peakinfo@csus.edu beforehand!
Tuesday | 4:00pm | @Peak_Adventures Instagram Live
February – Black History Month
Date: Tuesday, February 23rd, 2021
Time: 4:00pm to 4:30pm
Link: Peak Adventures Instagram Live
Celebrate Black History Month and continue the conversation about diversity, representation, and inclusion in outdoor spaces with Peak Adventures! Tune in to an Instagram Live interview with Soul Trak and the CSUS MLK Center to discuss diversity and inclusion in outdoor spaces and recreation. During this conversation, we'll be interacting with both our public speakers and you to continue the conversation about the black community's contribution to outdoor recreation and navigating barriers to the field.
March – Women's History Month with Rebecca Walsh
Date: Tuesday, March 30th, 2021
Time: 3:00pm to 3:30pm
Link: Peak Adventures Instagram Live
Happy women's history month! Celebrate with Peak Adventures the amazing women who have had an impact in outdoor spaces. Join us as we talk to female professionals in the field and ask your questions as they share their experiences and insight.
Rebecca Walsh is a former Army officer, the founder of Hike Like A Woman, and owner of Laramie's Basecamp, an outdoor retail store, guiding and outfitting company in Laramie, Wyoming. She's also the author of the e-books, How To Hike When You're Pregnant and How To Hike With Kids. Rebecca has appeared on the PBS television show Travels With Darley. Her work with Hike Like a Woman has been mentioned in Sports Illustrated Swimsuit, The New York Times, Real Simple Magazine, The Dyrt, The National Park Journal (Colorado) and Visit Wyoming. Rebecca has been featured on various podcasts and radio shows to include Minnesota Public Radio and as a speaker at the Outdoor Blogger Summit. In 2014 Rebecca started a local hiking group, Little Laramie Hikers with the goal to connect children with the outdoors, the group hikes weekly rain or shine and serves over 600 families in the community. When she's not outside having an adventure, she's busy with her husband planning their next family adventure for their two wild boys.
April – Boarding for Breast Cancer with Megan Pischke
Date: Tuesday, April 27th, 2021
Time: 4:00pm to 4:30pm (PST)
Link: Peak Adventures Instagram Live
In this week's conversation, we sit down with Megan Pischke ( @megsporcheron) to talk about her career as a professional snowboarder and her work at Boarding For Breast Cancer. B4BC's ( @b4bc) goal is to promote the importance of maintaining a healthy, active lifestyle as the best means of breast cancer prevention, provide survivor support for those affected by breast cancer, and prepare young people with education on early detection. They do this through their participation in year-round grassroots, youth-focused lifestyle events with our Educational Outreach Experience, Prevention + Awareness Fundraising Events, and Survivorship Programs.

After the interview, consider registering for Love Your Peaks to support B4BC's mission!
https://charity.gofundme.com/o/en/campaign/b4bcs-love-your-peaks-virtual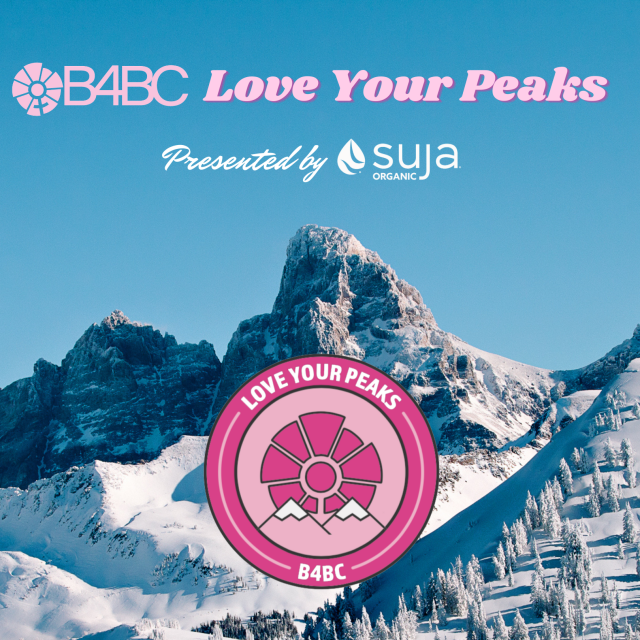 May – Bikes + Community with Ayleen Crotty.
Date: Tuesday, May 4th, 2021
Time: 4:00pm to 4:30pm (PST)
Link: Peak Adventures Instagram Live
In this week's conversation, we sit down with Ayleen Crotty, an award-winning bike culture expert. She is the Founder and Director of the Filmed by Bike film festival which features the world's best bicycle movies. She is also the editor of ORbike.com, a resource that promotes cycling in Oregon.
It's that time of the year again, National Bike Month! This month Peak Adventures is hosting a conversation surrounding the benefits of biking. We'll be chatting with industry and community specialists about health, wellness, and community that cycling provides. Continue the bike love and tune into our virtual screening of the Filmed By Bike Film Festival!