Mindful Nature Journaling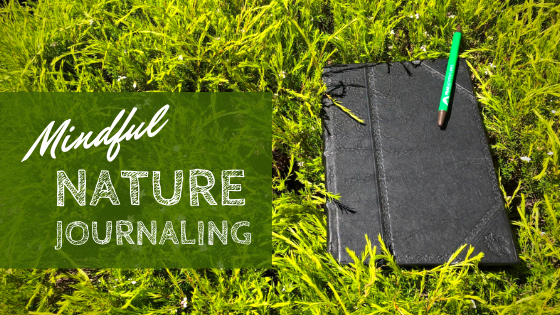 Spending time outside has many health benefits, and practicing mindfulness is known to improve awareness and mental health. This activity combines the two and is great for people that want to practice mindfulness, spend time in nature, or just need a creative outlet. This is a technique from John Muir Laws, is very effective for slowing down, and concentrating on what you see around you. Shout out to ASI Adventure Outings at CSU Chico for the inspiration!
This activity is the most beneficial when done in nature, however it can be done anywhere. The great news is that nature is never too far from us. Find a spot where you are able to sit comfortably, I sat in my front yard for this journaling exercise. You can utilize any area that helps you indulge in nature. It is easier to practice mindfulness when there are minimal distractions, so put away your phone and give yourself a break from screes.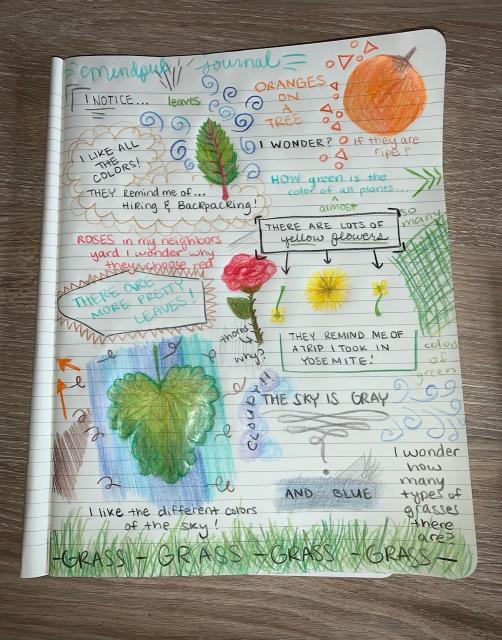 Use these three basic components to guide your journaling.
I notice…
Start finding things to notice in your nature space, and write them down. By writing them down, you are creating space in your brain, for new things to be noticed.
I wonder…?
Noticing something incites curiosity, write down something you wonder about your observation.
This curiosity activates dopamine in your brain, and once you really get excited about something, you will remember it much better!
These can be any types of questions — ask many so that you don't have to go back and answer them.
Next time you journal, perhaps you'll notice something else that answers one of your questions.
It reminds me of…
Let your creativity flow, and try to think of what the object you're looking at reminds you of.
Be as silly or as serious as you want to be. This part is simply helping your brain make connections with the new things it's seeing to old things you already know.
The point of this exercise is to offload information from your brain onto a page, so that you can "free up brain space," or clear up room for new thoughts. Use pictures, words, numbers, symbols, or whatever you feel like in your journal. It should be a space for you, not a performance that you'll be graded on/have to show others.
Happy journaling!
P.S. If you make a creation, share it with us on Instagram!