Wendi Weston
Challenge Center Team Lead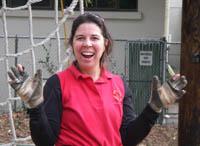 Education
AA in Fashion Design, BA Family and Consumer Sciences, Minor in Recreation and Leisure Studies, Credentials in Home Economics and Health Science.
Qualifications
Wilderness First Aid, Infant, Child, Adult CPR/First Aid, AED, Class B Permit. Wendi has been part of Peak Adventures since 2002. She has worked with many different groups on the Peak Adventure Challenge Center along with being contracted to work at other courses in the area. She has taught over 7 years in the public school system including junior high and high school students. Wendi has over 15 years of youth camp leadership and training for both elementary school students and teenagers. Taught an aspiring young artist for 3 years and currently has her own women and children accessories design business creating beautiful one of a kind fabric creations.
Favorite Thing About Peak Adventures
Being part of Peak Adventures has provided so much growth in my professional and personal life. Each day on the Challenge Center I have the opportunity to mentor, share and learn with both my fellow "Peakies" and clients. I love to go to work!!! Without ASI's support for Peak Adventures this would never have happened.